Chalfont WIN the Christmas Interclub
Team Challenge
This competition took place on Monday 7th December at the Harefield Judo Club. We entered in a team of 21 and enjoyed great success with our team gaining 63 points with the second closest club gaining 53. Once the points were averaged in order to establish the team winning the competition, we came first with an average score of 13 with the other clubs all scoring in the mid-12's. Well done to all of our Judoka's!
Shortly, there will be further pictures and videos uploaded of this event which was a friendly event that was both fun and at the same time, fiercely competitive. But for now, you can enjoy a couple of videos of Jonah, who somehow failed to book in at the right time and so ended up in the wrong pool as you can see from the size of his opponents. Nevertheless, he wasn't about to give up!
| | |
| --- | --- |
| Jonah's First Contest | Jonah's Third Contest |
The Medal Table is as below:
| | |
| --- | --- |
| Name | Medal |
| Elliott | Gold |
| Jessica | Gold |
| Laura | Gold |
| Noah | Gold |
| Shona | Gold |
| Tom | Gold |
| Aaron | Silver |
| Amy | Silver |
| Hannah | Silver |
| Jamie | Silver |
| Jay | Silver |
| Jonah | Silver |
| Joshua | Silver |
| Rhys | Silver |
| Alan | Bronze |
| Ellie | Bronze |
| Emma | Bronze |
| Jay | Bronze |
| Jonathan | Bronze |
| Molly | Bronze |
| Simone | Bronze |
---
Alan gets Gold and Tom Silver at the White Horse Open Championships in Didcot on the 18th October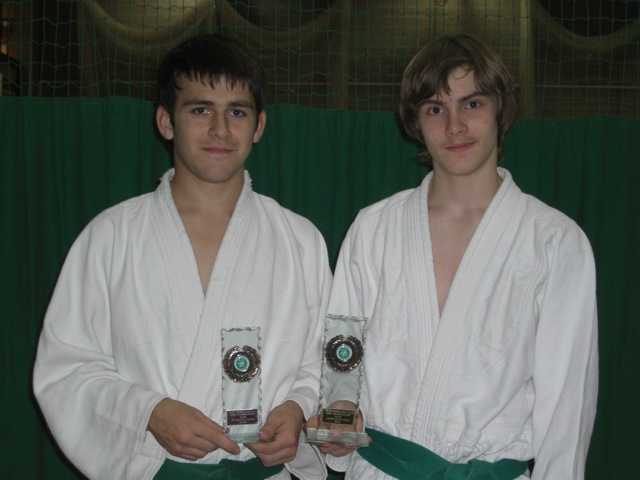 Their success underlines the 'Ippon' style of Judo that the club espouses and adds to an already impressive medal haul for the club this year.
---
Ian Rose Visits Chalfont Judokwai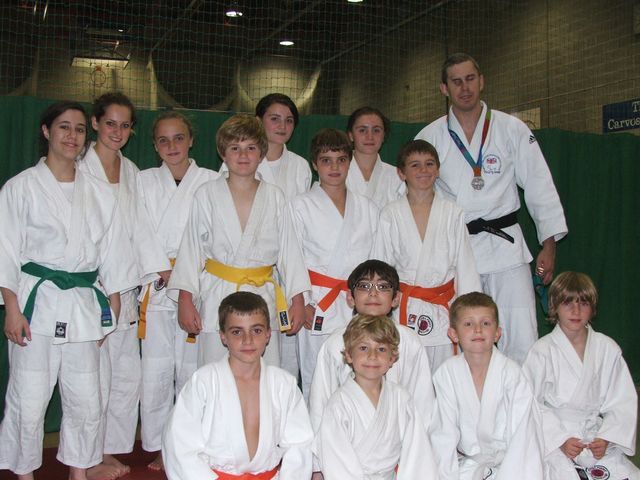 On Tuesday the 29th September we were honoured to have Ian Rose 5th Dan visit us. He spent the session coaching the coloured belts and then gave a question and answer session. After that the less inhibited challenged him to a bit of Randori where they picked up some vital tips. David Sensei also joined in and with the result of two throws to one in his favour he thanked Rose Sensei for making him look good.
In the above picture you can see Rose Sensei sporting his Silver Medal from the Athens 2004 Paralympics. To find out more about Ian Rose, click
here
.
---
Success at Welsh Nationals




With little notice we entered a team of five (pictured right) into the Welsh Nationals on the 27th September 2009. For some reason that no one understands, the Welsh Nationals are not held in Wales but in Hereford (which in mitigation is quite near Wales) and is open to any Judoka from within Great Britain including those belonging to other organisations.




Jamie won his first contest but then had to bow out due to injury (from which he has now recovered). Molly won a couple of contests as did Laura (all on rear row from left to right).




Elliott and Jessica came back sporting their Silver medals to add to their existing collection.




We (their Sensei's) continue to be very proud of the progress they make within Judo. They all demonstrate good clean technique which support the principles of 'Ippon Judo' where one aims to win on full points from correctly executed techniques rather than minor point scoring. We have no doubt that we have a lot more to see from them.
---
Bognor Summer School 2009
Several of our club members attended the BJC Bognor Summer School on the 24th to the 28th August. A good time was had by all with useful additions to their technique and improvment in Kata for those of 3rd Kyu and above. A special 'thanks' goes to Amber from Beacon Judokwai who joined Shona on the Kata mat to partner her in Naga no Kata. At the grading on the final day, all those who attended from our club were promoted as follows:
| | |
| --- | --- |
| Name | New Grade |
| Jonah | 6th Kyu (White) 3 Green tabs |
| Jonathan | 4th Kyu (Orange) |
| Noah | 4th Kyu (Orange) 3 Green tabs |
| Elliott | 4th Kyu (Orange) |
| Jamie | 4th Kyu (Orange) 2 Green tabs |
| Shona | 3rd Kyu (Green) 3 Blue tabs |
| Laura | 3rd Kyu (Green) 3 Brown tabs |
| Jessica | 3rd Kyu (Green) 3 Brown tabs |
President Robin Otani pictured awarding the new grades
---
BJC National Championships 2009
Chalfont & Everham Judokwai took part in the BJC National Judo Championships on the 3rd May
We entered a team of 12 children and were very proud to leave with 5 bronze medals which put us in fifth place in the medal tally of BJC Judo clubs in the UK. Congratulations to the medal winners; Jessica, Jamie, Noah, Hannah and Ellie.
All of the team did very well in what for most of them is their first national contest which they are bound to have found a bit overwhelming.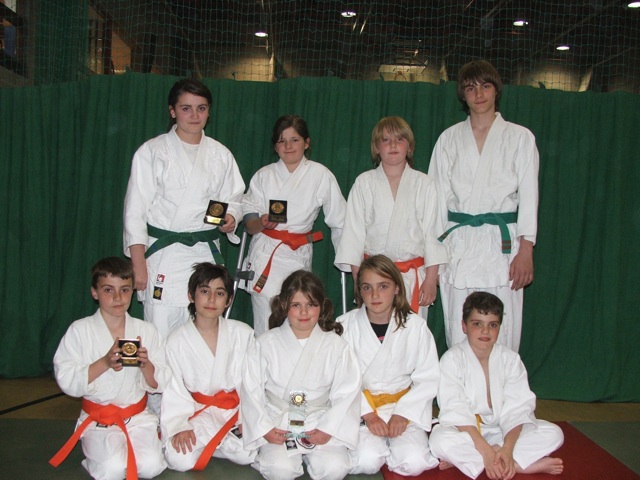 Pictured above: Jessica, Ellie, Connor, Alan, Elliott, Molly, Hannah, Noah and Jamie. Not in picture but also in team, Tom, Laura and Jonathan.