Jessica and Laura demonstrate Tomoe Nage (Stomach Throw)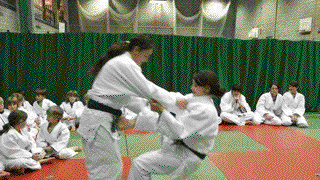 It is important to note the correct placement of the 'stomach' foot and althougn you can not see if properly here, that the supporting foot is placed inbetween Uki's legs and not in front of it. Failure to observe this will result in Uki falling on top of Tori rather than going over as the Kuzushi will be incorrect. It should also be noted that the 'stomach' foot acts as a pivot and Uki is guided over Tori through the use of the arms. If the 'stomach foot' is used to try and propel Uki into the air they will not land correctly reducing the chance of an Ippon.
In this picture you can see the correct demonstration of almost a textbook Tomoe Nage. As both Kuzushi and Tsukuri are correct, the chances of the Kake also being correct are significantly increased resulting in a good Nage.