David Sensei was 'forced' into participating in the North London Area Competition on the 15th May 2011. He got a Bronze but was clearly outclassed in all areas as the videos show. Eventually, David may realise that his competitive days are well behind him.
On the 21st November 2010 David Sensei entered the BJC Senior National Championships and gained Silver in the over 45 years Dan grade category (otherwise known as the Veterans).
The last time David entered a competition at this level was in 1978. Returning to national competition for the first time after a hiatus of more than 30 years and well past his prime was only made more challenging by the absence of any real Randori experience for several months. Nevertheless, undeterred, David was determined to have a go.
In this contest, David is up against a Judoka named Josef from Poland who had several inches in height, more than a stone in weight and a decade less in age to his advantage. But this is as nought when compared to the fact that he trains twice a week and does not coach.
The first problem upon taking grip was that Josef's grip was so solid and bearing down upon David's shoulder, that he was unable to move very much, for fear of taking himself of balance and opening up to being thrown. David shouldn't have worried about this as the first throw was not long in coming. A very solid O Soto Gari knocked him to the ground for Wazari and left David thinking, "must get a better grip".
Upon restarting David did indeed attempt to get a better grip, but it was an attempt. It failed. He tried valiantly to shift his opponents grip but was left in awe at the strength with which he was being held. After a while the referee got bored and stopped in order to award a Shido for non-combativity. A Wazari and Shido down, this was the last of David's concerns, the major one being, just trying to resist being pushed into the ground.
Some futile attempts were made at a technique but the end was inevitable as David was taken for a very nice Tai Otoshi giving Josef an Ippon.
After this contest Josef decided to tell David a bit about his background. He is a bodyguard and nightclub bouncer who in his youth trained with Vladimir Putin in Russia. He was the Polish National Champion twice and upon moving to the UK gained the BJA National Champion twice and the BJC once. But none of this really matters, David lost to a better Judoka and would probably have lost whoever his opponent was. But one consoles oneself with the 'it is the taking part that counts'. Really, who is he convincing?
Never mind David got a nice medal!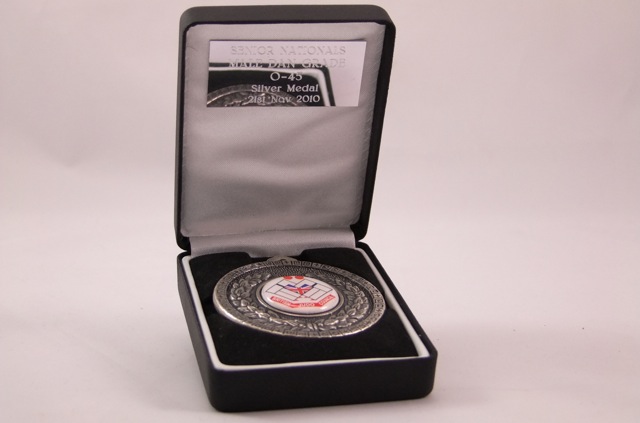 ---